Decker hood riveting case
Founded in 1991 in Zhongshan, Guangdong, Baide Kitchen has been focusing on professional kitchen and bathroom for 28 years. It insists on professional, quality, practical and innovative as the core driving force for the development of the company. It has grown steadily from a famous Chinese kitchen and bathroom brand to an international professional with international influence. Kitchen and bathroom brand. Today, Baide Kitchen & Bath is professionally innovated and technologically innovative in the world. The products are sold well in 126 countries and regions around the world, and gradually become the Chinese brand that stands in the world.

At present, the Baide Kitchen and Bath Production Industrial Park covers an area of ​​200,000 square meters and has a series of products such as range hoods, gas stoves, disinfection cabinets, steaming and washing, gas water heaters, electric water heaters, wall-hung boilers, etc. The overall needs of kitchen and bathroom products.
The production capacity of Black & Decker is the best in the industry. It has 50 automatic assembly lines, introducing laser welding machine, laser cutting machine, energy storage welding machine, CNC sheet metal forming equipment, automatic logistics conveying system, automatic spraying pretreatment production line, etc. With advanced equipment, the overall production level has formed a scale of specialization, standardization, intensification and technology.
Entering the Baide Park, the production line is continuous after continuous opening. The installation of the blind rivet is an indispensable step. Since the hood chassis is T-shaped and has holes around it, the rivet action is difficult and the nails are not good. Put, employees complained, the management is also trying to improve as much as possible. First, I found some information on the Internet, then found us and agreed to test the machine. During the trial period, the management made a comparison and did try out us. The nail puller is very helpful to them. Other departments and workshop managers also came to experience observation. It is highly praised by frontline employees and senior management.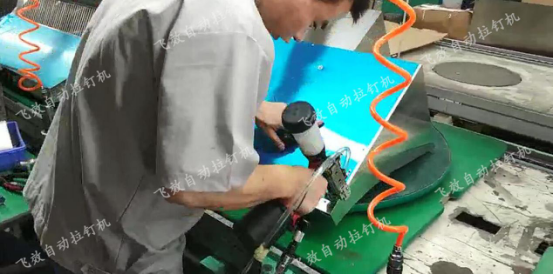 Add: Hongfu Science Park, Xiaban Village, Houjie Town, Dongguan City
400:4006-784-785
TEL:0769-89874163
Mob:150 1677 5153
E-mail:xunjiezdh@126.com