Prayer oven riveting case
Prayer Metal Products is a foreign-invested enterprise located in the Nansha New District of Guangzhou, the center of the Pearl River Delta. It was established on November 1, 2002. Mainly engaged in high-end outdoor gas grill, with an annual output of more than one million units, integrating design, production, processing and sales. It covers an area of more than 200,000 square meters and employs about 4,000 people. It has an independent professional R&D team and perfection. The production equipment constantly develops competitive new products to meet the market demand, and guarantees the product quality with advanced production technology and standard management. It also continuously exceeds the customers' expectations with perfect service. The products are all exported to the United States and other parts of the world. "Pioneering, enterprising, truth-seeking and pragmatic" is our proud corporate culture. "Quality first, innovation as source, management-oriented, satisfaction is proud" is our resolutely implemented quality policy, creating "customers, companies, employees "The win-win situation is the main strategy for the company's future business development.

Praying the riveting station is mainly to produce the oven. Because there are many rivets on the oven, the hand pull efficiency is extremely low, and there are dozens of people in this station. The superiors are eager to understand our equipment, improve efficiency and save them. Cost, the previous stage of praying to the company to audit the company's strength, atmosphere, environment, the machine has also been observed in the test process, the unanimous approval of the upper leadership and employees, the director decided to buy 20 units. I wish you a happy cooperation with our company!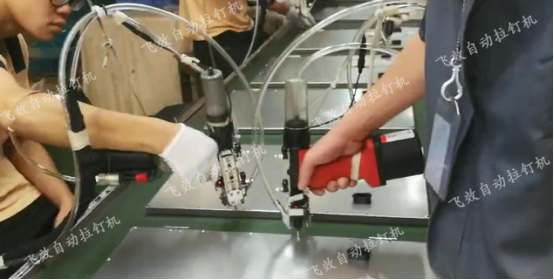 Add: Hongfu Science Park, Xiaban Village, Houjie Town, Dongguan City
400:4006-784-785
TEL:0769-89874163
Mob:150 1677 5153
E-mail:xunjiezdh@126.com